Dentures
They're fake and I love 'em, thanks for asking!
If you lose a few or all of your teeth, you will probably want to have them replaced as quickly as possible. Dentures are a practical and reasonable option for the replacement of multiple teeth.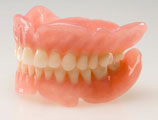 A denture is a removable dental appliance that can replace missing teeth and lost gum tissue. It can restore your confidence and enhance your smile.
There are two types of dentures, complete and partial. As you might imagine, complete dentures are used to replace all of your teeth, covering your upper and lower jaws. During your evaluation, we may decide together that implants should be used to anchor your complete denture into place. A partial denture is used to replace just a few missing teeth, when some natural teeth remain. Removable partial dentures are supported by surrounding teeth. Fixed partial bridges are cemented into place, and cannot be removed.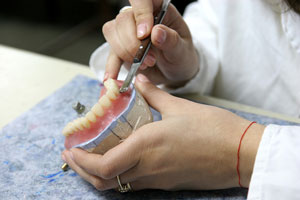 Once we decide together that dentures are the right choice for you, we will take some impressions of your teeth and evaluate your bite, or the way your teeth come together. If you liked the look of your natural teeth, you can bring in a photograph for us to send to the dental laboratory, where they will create a smile that looks like your own.
We will decide together whether you will be given either conventional dentures or immediate dentures. Conventional dentures will arrive in a matter of weeks, and will be permanent. Immediate dentures are created for you to wear temporarily while we wait for your permanent dentures to arrive.
While advances in dentistry have made dentures more comfortable and durable than ever before, they may still take some getting used to. Additionally, your mouth will change over time so your dentures will need to be adjusted periodically.
If you have questions, or think dentures may be right for you or a loved one, talk with us during your next visit.
Our dentures patients come to us from Garner, Raleigh, Apex, Cary, Clayton and close-by locations.