Dental Implants
They'll notice but they'll never know.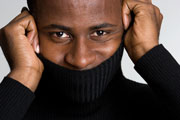 Whether from injury or disease, missing teeth can be troublesome and embarrassing. In many cases, dental implants are the ideal solution to tooth loss in adults. Instead of sitting on the gum line like dentures or being attached to adjacent teeth, dental implants are surgically implanted into your jawbone—preserving surrounding healthy teeth.
They can be used to replace just one tooth, or multiple teeth. Implants are made of titanium and fused to the jawbone, then topped with a natural white crown—so they look and feel like your real teeth.
Statistics show that 69% of adults ages 35 to 44 have lost at least one permanent tooth to an accident, gum disease, a failed root canal or tooth decay. Furthermore, by age 74, 26% of adults have lost all of their permanent teeth.
Once you have decided to move forward with a dental implant, your dentist will check to be sure that your bone is healthy enough to support it. Don't worry, if it isn't, a bone graft will provide more than enough support for your new tooth.
The Dental Implant Procedure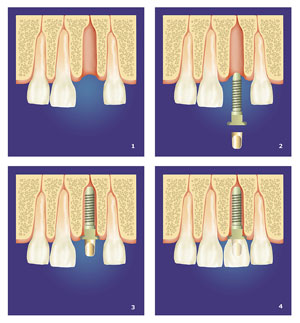 First, we will prepare the bone with a special drill and place the implant. It will take three to six months for the implant to integrate into your jawbone. This process is called osseointegration.
Once the gum has fully healed, we will match your new crown to the color of your other teeth so that it will be virtually undetectable. The crown is cemented into place, and voilá—you have a brand new natural looking tooth, and that confidence back in your smile!
If you think a dental implant might be the solution for you or someone you love, talk with us during your visit.
Patients come to us for dental implants from Apex, Cary, Clayton, Garner, Raleigh and neighboring locations.