Fixed Dental Bridge
This London Bridge isn't going anywhere!

If you're missing one or more teeth, it's time to bridge the gap—literally. Missing teeth can be more than a drag on your self-esteem, they can actually cause more serious dental problems. Your remaining teeth will often drift to fill the open space, and gums and surrounding tissue will become more susceptible to decay and disease.
A fixed bridge is a permanent dental appliance that is ideal for replacing one to a few missing teeth. It can restore your confidence and safeguard your dental health for years to come.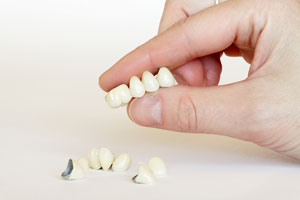 Fixed dental bridges consist of two parts: The first is the pontic, or the false tooth (teeth). The second is the part that is used to hold the pontic in place. The pontic is fused either between two crowns or attached to metal bands that will be secured onto the surrounding healthy teeth.
There are multiple types of fixed bridge that differ mainly in the ways that they are applied to your teeth. Depending on your unique situation, we will work together to decide which one is right for you.
We will start by reshaping the existing teeth to support the new bridge. Next, we'll make an impression of the reshaped teeth, and send it to our dental laboratory where your new fixed bridge will be created.
Once your bridge is ready, you'll come in for a second appointment where we'll test the size, color and fit of your new fixed bridge. The bridge will be secured into place using dental bonding cement.
Taking good care of your new fixed bridge is easy, and crucial—neglecting your new bridge can make your gums more vulnerable to bacteria and disease. Schedule regular check ups and brush and floss every day. We can recommend special floss threaders that help clean those hard to reach spaces.
If you have questions, or would like more information on fixed bridges, talk with us during your next visit.
Patients come to us for dental bridges from Raleigh, Apex, Cary, Clayton, Garner and surrounding communities.