Dental Bonding
No gaps here!
Are imperfect or damaged teeth keeping you from smiling? We can help!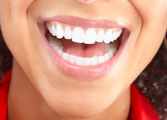 Dental bonding is a painless in-office procedure that can repair superficial imperfections and restore beauty to your smile. Using a resin-type material, your dentist can fill in minor gaps, fix a chipped or broken tooth—even brighten your smile.
During the bonding process, your dentist will apply the bond to the front surface of your tooth or teeth and sculpt it into an ideal shape. We will use a high-intensity light to harden the bond so that we can polish it to a natural shine.
Dental bonding can usually be done in a single visit for minor imperfections. Two visits may be required for more extensive corrections.
Exposed roots and receding gums can cause dental problems over time. Bonding can correct exposure and recession, helping prevent more serious health issues in the future.
If you have small gaps between front teeth, or chipped or cracked teeth, you may be a candidate for dental bonding. Talk with your dentist during your next appointment for more information!
Patients come to us for dental bonding from Cary, Clayton, Garner, Raleigh, Apex and close-by locations.