Dentures For Residents in Raleigh NC
Having a full set of pearly whites can completely change your quality of life. When you're missing a good portion of your teeth, social situations can become stressful and embarrassing if you feel the need to hide your smile.
Luckily, dentures have become a long-standing option for patients looking to replace partial and full portions of their teeth. Dentures protect exposed gums, increase the functionality of mouths with no teeth, all while allowing patients to show off a newly confident and full smile.
What Are Dentures ?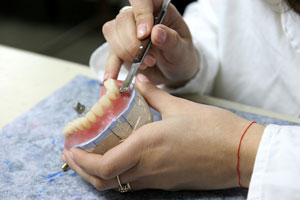 Dentures are a traditional restoration option involving customized teeth replacements that sit on top of the gums. Dentures can be created in both partial and full sets depending on the treatment needed for each patient. Because dentures are not bonded to the teeth, patients can easily remove these appliances for proper cleanings after eating or during sleeping hours at night.
Compared to restoration options such as crowns and dental implants, dentures don't function like natural teeth in regards to durability and stability.
However, for patients who are missing most of their teeth who have severely had to change their diet due to pain and discomfort, dentures serve as an excellent option to gain back a full smile with far more functionality then chewing with bare gums.
Who Qualifies for Them
Patients experiencing any of the following situations may be perfect candidates for denture treatments:
Missing the majority/or all of your natural teeth.
Experiencing severe decay requiring extraction
Lack of bone integrity for dental implants
Receding gums due to age or disease
What Is The Process of Getting Them?
When you and your dental provider have determined dentures to be the best treatment to restore your smile, there are several steps necessary in creating the final product. The style and type of dentures needed for your treatment will determine the final length of the process, but for traditional full and partial dentures you can expect the following steps:
Dental Impressions: To ensure your dentures fit comfortably and securely to your gums, your dentist will need to take an impression of your remaining teeth and gums to help create your appliance. If your case requires extractions of decayed or damaged teeth, your dentist will need to wait to take impressions until the gums are completely healed to reduce the risk of loose dentures due to swelling.

Wax Rims:

To correctly measure the bite of your teeth, your dentist will use a set of wax rims. When placing the rims on your mouth, your dentist can gauge how the dentures will need to be formed to achieve a healthy bite once they are in your mouth.
Customized Teeth: At some point in your initial appointments, your dentist will allow you to customize your dentures. By choosing the size, shape, and shade of teeth to be used, patients achieve the exact look they have always wanted for their smile.
After gathering all of the measurements and details to create your dentures, your Raleigh dentist will send the information to the dental lab responsible for manufacturing the product. This process will vary depending on each lab and treatment.
Once the dentures are completed, you will return to your provider for the final steps of the process:
Trial Fit: To help you get used to your new dentures, your dentist will create a plastic and wax mock-up set to give you an idea of how they will look and feel. This trial helps your dentist make adjustments needed to the fit and shape of the dentures before creating the final set.  t can be helpful to bring a loved one to this appointment for a second opinion on the trial fit to ensure you are satisfied with the appearance.
Final Fitting: When the mock-up set has been approved, the dental lab will create the final partial or full denture set for your treatment. You will return to your dentist office for a final fitting to make any last minute adjustments needed before sending you on your way with a new smile. The final set will be constructed using plastic teeth and a strong acrylic base. Your dentures should feel comfortable and secure before leaving the appointment to prevent discomfort or soreness.
Check-Up Appointments: In some cases, check-up appointments will be necessary if the patient feels uncomfortable with the fit of their dentures. Tight or loose fitting dentures can cause gum sores and swelling, preventing individuals from wanting to wear them daily as needed. Making an appointment with your provider at the first sign of a problem is essential in avoiding discomfort and helping your mouth get used to the dentures quicker.
Are There Post Care Instructions For Dentures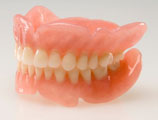 Because dentures are not surgically inserted into the mouth, there is minimal discomfort expected with a proper fit. It is typical
for upper dentures to feel tight, while lower dentures fit looser. If you are experiencing difficulty with slightly loose fitting dentures, there are multiple adhesive products available for keeping dentures tightly in place. If you are experiencing loose fitting dentures that are causing sores, you will likely need to see your dentist for an adjustment with the set.
You can expect to wear your dentures during waking hours, and removing them at night for proper cleaning. Patients often find the hardest adjustment when starting to wear dentures is getting into the habit of wearing them every day. Dentures can also change your appearance and chewing habits, causing individuals to feel slightly self-conscious in the beginning. It's important to be patient during this transition and to remember your dentures will feel more natural the more they are worn on a daily basis.
There Different Types?
Contrary to popular belief, you don't have to remove all of your teeth to get dentures. There are several types of dentures available for patients seeking replacement options for missing teeth in multiple stages of treatment:
Full Sets: When people initially think of dentures, they often are referring to a complete set. Patients who receive a full set of dentures are missing all of their teeth from decay or damage, requiring a full mouth of replacement teeth to achieve a beautiful smile.
Partial Sets: Patients who still have healthy natural teeth or are considering the possibility of dental implants in  he future, often receive an partial set of dentures. These sets are made to sit on existing teeth and gums and can be adjusted as dental implants are added.
How Much Are Dentures
The cost of your customized dentures will be determined by the type of treatment needed in achieving your new smile. Dental insurance plans will also affect the how much of the procedure is covered and what portions will be required out of pocket. Calling your insurance company before a consultation with your dentist can be extremely helpful in planning for treatment within your budget.
As a traditional tooth replacement option, dentures have been around for quite some time. They have changed the lives of millions of patients looking for a full and beautiful smile and continue to improve with advancements in the dental field every day. For more information on achieving your dream smile with dentures, schedule a consultation appointment with your dentist today!
Contact Us Today
If you have questions, or think dentures may be right for you or a loved one, talk with us during your next visit.
 Contact us today or call our office to get started at 919.786.6766
Our dentures patients come to us from Garner, Raleigh, Apex, Cary, Clayton and close-by locations.