Dental Bridge Options in Raleigh NC Residents
Replacing one or more missing teeth can be easily achieved using a dental bridge. Patients who are missing teeth may feel self-conscious about their appearance, but the impacts of missing teeth go beyond what someone sees when they smile.
Many issues can arise as a result of missing teeth including additional tooth loss, decay, and more. Your remaining teeth will often drift to fill the open space, and gums and surrounding tissue will become more susceptible to decay and disease.
What are the Components of a Dental Bridge?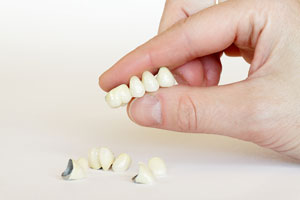 Bridges, also known as fixed bridges, can be used to replace several missing teeth at once. Bridges are used to close the gap between teeth. They "bridge the gap" between two teeth.
Fixed bridges are solutions used by dental professionals to replace missing teeth. Bridges are made up of two major parts. The first part is known as the pontic, which is a false tooth.
In cases where more than one tooth needs to be replaced, multiple pontics are used. The second part of the fixed bridge is the part that holds the false tooth or pontic in place.
There are several types of fixed bridges that might be used to replace missing teeth. The kind of bridge used will depend on how many teeth are missing, and the state of the surrounding teeth.
What are the Different Types?
One type of dental bridge involves using crowns on either side of the new tooth, or pontic. These crowns are prepared as part of the bridge and create three or more new teeth in a row. Another type of dental bridge involves using metal or ceramic "wings" or bands that are fused onto existing teeth to create the new bridge and teeth. Both are viable solutions depending on the health and shape of the existing teeth.
Key Points To Consider
There are several things to consider when it comes to having dental bridges placed on teeth; for example, over time the metal bands used in one type of bridge can start to wear away the existing teeth that surround the pontic. This type of bridge can also turn surrounding teeth a grey color over time; depending on the location of the bridge, patients may not be concerned with the aesthetics of a metal-band bridge. Bridges can be fixed or partial, which can be removed.
What are They Made From?
Bridges may be made from several long-lasting materials such as porcelain and zirconia. The crowns used to secure the bridge are typically made of porcelain; some patients may opt for metal alloys or even gold, depending on their preferences. Sometimes glass is used in porcelain mixtures to create a shine, similar to natural teeth. Whatever the bridge pontics and crowns are made from, caring for them is vital to their longevity and durability.
What is the Process of Having Dental Bridges Placed?
The process of having bridges placed in a patient's mouth can be done in a few simple steps. The first step involves reshaping the surrounding teeth to support the bridge. The next step consists of making either a physical or digital impression of the newly shaped teeth so that the dental lab can prepare the bridge.
The mold (or digital scan) will be sent to the dental lab, and within a few weeks a brand new bridge will arrive at the dentist's office and be ready to place on the patient's teeth. The bridge will be fitted to make sure it is the proper shape, size, color, and texture. Then, the dentist will adhere the new bridge to the existing teeth using dental bonding cement. This cement is final, and once the bridge is placed, it will not be removed again.
How Do Patients Care for Dental Bridges?
It is important to care for a new dental bridge in the same way a patient would care for their existing teeth. When they are not properly cared for, bridges can cause irritation, infection and even decay to patient's existing teeth. It is vital to schedule and keep dental appointments following the placement of a dental bridge.
Special tools may be required to clean the bridge including threaded floss, dental picks, and water flossers for good oral health and hygiene. Continuing to brush existing teeth, and especially the teeth immediately surrounding the dental bridge will be critical to the success of the dental bridge.
What are the Benefits of Getting Dental Bridges?
The benefits of having a dental bridge far outweigh the risks associated with them. For example, having a pontic placed in the space where a tooth is missing can help to reduce the likelihood of a tooth moving into the space.
While the root space cannot be held, the physical space can be maintained and reduce the movement of other teeth. Another benefit of having dental bridges include the completion of a bite: proper alignment and contact of teeth is essential to reducing the risk of jaw problems, pain and discomfort, premature wearing away of enamel and more.
Other benefits include maintaining a more natural look of the face - missing teeth can cause the skin on the face to sag, which can make a person look older than they are; having a full set of teeth also helps people look younger. Of course, having a bridge placed in a patient's mouth also helps to improve self-esteem and confidence.
Are Dental Bridges Right For Everyone?
Depending on how many teeth are missing, and the state of the surrounding teeth, dental bridges might be a good option for some patients. Other dental treatments are available for treating missing teeth including crowns, dental implants, and dentures (depending on how many teeth are missing from a patient's mouth). It's important to talk to a dentist to understand the options when it comes to restoring the look and feel of teeth. Choosing the right solution for each patient is vital to ensure their teeth are healthy for years to come. If you need more information about dental bridges, be sure to talk to your dentist today.
We Can Help Out
If you have questions, or would like more information on fixed bridges, talk with us during your next visit.
Patients come to us for dental bridges from Raleigh, Apex, Cary, Clayton, Garner and surrounding communities.
Contact us here by email or call us at 919.786.6766 to help us come up with a solution to restore your confidence and smile.