Our Patients Love Us and So Will You!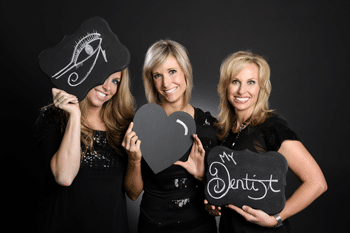 Our patients love us and so will you! Are you thinking about making a change? Spring is a great time to do so!  The doctors at Renaissance Dental Center would love to welcome you to your new dental home. Drs. Abernethy, Sonner and Wells have created a safe, friendly and welcoming dental practice. We are proud to have the opportunity to offer the best dental care for our patients. Once you come into the office, you will immediately see that we are not your ordinary dental practice.  Our doctors and team spend countless hours learning and perfecting our skills, and we strive to provide the most up-to-date and innovative dental technology.
You will know our office is different at your initial phone call. We spend time getting to know your needs, desires and maybe even your fears. We offer a non-judgmental approach so that we can help you have the smile you always wanted. And, we will do all your leg work for you. We will verify your dental insurance, call your previous dentist to request any current x-rays, and email you the forms you will need for your first appointment.
Our office is conveniently located in the North Hills area. When you arrive you will notice that we are different! You will be welcomed by our friendly staff. We do not have a waiting room, but instead use a living room to make you feel more relaxed once you arrive. We have a beverage bar that includes coffee, tea and juice. We know that in your busy day, it would be nice to sit and rest a minute. You can do that in our massage chair while closing your eyes and listening to our water fountain.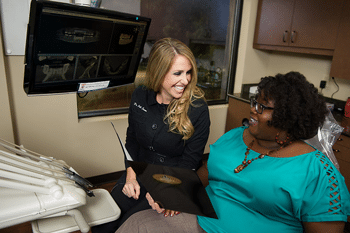 Your initial appointment usually will consist of an examination that typically takes 60-90 minutes. This will allow the doctor and her team time to complete a thorough and comprehensive exam. This includes a tooth by tooth assessment, periodontal screening, complete records to establish a baseline, and a recommendation for hygiene therapy based on their personal assessment. While we are gathering this information, relax while you have a paraffin hand wax or watch your favorite TV program.  Together we evaluate your teeth and will come up with a plan to have the smile you always wanted.
We are a full service dental office. We offer crowns, dental implants, extractions, composite (tooth colored fillings), bridges, dentures and much more. If you need something to help you relax during your dental procedures, we offer many types of sedation.
We also see everyone from the little ones for their first dental appointment to the more mature dental patient. We would love for you to join our dental family. Please call for your appointment today! If you are already a patient, it would be an honor to serve your friends and family!
SMILE TRANSFORMATION OFFERS through 4/30/14
Free whitening system (with completion of new patient exam, necessary xrays cleaning, and proposed treatment)