A Smile Design Tailored For You in Raleigh, NC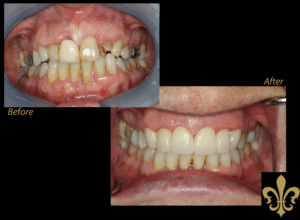 Are you unhappy with the overall look of your smile? If you are, you are not alone, as a recent 'Dear Doctor' poll found that nearly 80% of people are unhappy with their smiles. Lucky for us, we live in an advanced modern society that allows patients to undergo a smile design procedure. What is a smile design? This is when a cosmetic dentist will artistically redesign or help reshape, resize and recolor your existing teeth to make them look younger. Dentists can revamp your look to give you the confidence you desire, the confidence you can get with a wholly redesigned smile.
Over time, like many things, our smiles go through normal wear and tear that comes with age. Even if you feel you've taken great care of your teeth, you may notice that they are much yellower than the teeth you had nearly 10 or 20 years ago. It is completely normal to find that your teeth will start to wear out over time. Teeth become more prone to cracks and chips as well as discolor over time. You will see that old fillings can become discolored as well and stand out more than what they were intended to do. A smile design enhancement procedure can turn back the clock to give you a younger, brighter, and straighter looking smile.
Where Can I Start with a Smile Design Plan?
It can be quite intimidating trying to narrow down the procedures available to you. Perhaps you simply need a tooth whitening session, tooth bonding to fix cracks, or perhaps something a bit more advanced like a dental implant. Whatever your needs are, your cosmetic dentist can assist you in figuring out exactly what procedure or mixture of procedures can be done to give you the smile you crave.
A customized smile design plan is what you should be aiming for. This design plan is usually constructed during your dentist's consultation. He or she can go through and perform a number of x-rays and a check ups to fully get a grasp on what your smile currently looks like. Once your dentist has a full overview of your smile in mind, he or she will recommend either one or more cosmetic dentistry
procedures that can repair the issues at hand.
In all cases, however, it is important that the health of your smile is still relatively good as that is the most important aspect of your smile. If your dentist finds that you have periodontal disease (a form of gum disease), then he or she will recommend having that reversed before moving forward with any aesthetic changes.
During this consultation, be aware that you are able to ask any and all questions that you may have about the procedure. You are encouraged, as the patient, to speak up about what exactly you had in mind as well as to bring in a reference photo of a celebrity smile you like. These talking points can allow your dentist to better evaluate what needs to be done to achieve the look you have in mind.
No smile design procedure is ever exactly the same. Every patient should have a perfectly tailored design plan made to fit their every need and want.
What are Some Common Smile Design Procedures?
Smile design procedures are typically made up of more than one dental cosmetic procedures. Dentists want to ensure perfection in your smile, and in more cases than none, patients would require a multitude of procedures to create the perfect look. Check out the common procedures below and see if any of these could help take your smile from dull to perfect!
Porcelain Veneers: This procedure is quite popular in the dental cosmetic industry. Porcelain veneers are thin "shields" that become bonded to the outer side your natural teeth. Veneers can help give the illusion of much straighter, whiter, and not chipped or cracked teeth. Veneers are usually placed on all teeth to give the look of consistency. It is a commitment to opt for veneers but many of patients
are happy they took the dive. This procedure may be combined with porcelain crowns if needed.
Porcelain Crowns: Porcelain crowns are fabricated "shields" that cover not one, but all four sides of a tooth. It glides on like a crown and covers all the natural bits of a tooth (except the tooth underneath the gum line). This procedure is done for single teeth which need to appear whiter as it can replace old and tired looking fillings.
Porcelain Bridge: A porcelain bridge can be added to fill in a gap or multiple gaps in your teeth. This is added with two anchor crowns on either side to "bridge" together with the empty space with a replacement tooth. This procedure can be combined with any other cosmetic dental procedures or it can be done alone.
Dental Implants: If you are missing a tooth, or had to have a tooth extracted because it was too damaged to be salvaged, then your dentist may recommend a dental implant. Dental implants are titanium posts that are screwed into your jawbone to mimic a tooth root, and a dental crown to be added on top as your replacement tooth. It is the only procedure that combines both the look and the
functionality of a natural tooth.
Dentures: Dentures are usually recommended for older patients who cannot endure major teeth replacement surgeries. There are different types of dentures that can be implemented using bridges or dental implants that support the dentures.
Teeth Whitening: This is a common form of cosmetic dentistry as it can be combined with virtually any procedure or can be done alone. Teeth whitening alone can help a patient feel more confident. Simply by having a professional whitening treatment done, a patient can have teeth looking multiple shades brighter after just one session.
Orthodontics: Braces are an incredibly popular method to permanently straighten very crooked teeth. Your dentist may combine this procedure with a tooth extraction or root canal therapy if needed. This is a great way to fully straighten your teeth to help you look and feel your best in a few short years!
Contact Renaissance Dental
Our practice provides the full array of dental procedures needed to give you the smile you've been dreaming of. From start to finish, our smile design process is custom tailored to you, with you, and for you... call 919-786-6766 today.