Composite Fillings
Isn't it time to get the lead out?
While we all strive for the proud moment of a "no cavities!" report from the dentist, the reality is that cavities can happen to all of us. The good news is that unsightly metal fillings don't have to.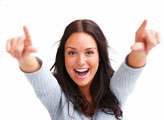 Composite fillings are made of a super-strong blend of resins that bond to your teeth to fill cavities or correct mild imperfections. While they are designed to be permanent, all man-made materials (including metal fillings) should be checked periodically, and may eventually need to be replaced.
Because composite fillings are tooth colored, they are ideal for more visible repairs. They can also be used for filling cracks and chips, or closing gaps between teeth.
Composite fillings can be applied in a single visit. After numbing the area completely, we will remove all decay and clean the tooth to be filled or repaired. Then the filling will be placed, shaped and polished—restoring your tooth's natural strength, function and beauty.
If you have questions about composite fillings, talk with us during your next visit!
Patients come to us for composite fillings from Cary, Clayton, Garner, Raleigh, Apex and neighboring areas.