Invisalign

®
Who you callin' metal mouth?
If you're all grown up and still unhappy with your smile, braces can seem like a daunting option (or not an option at all!). But there's good news—you can have the straight, beautiful smile you've always wanted without all that metal in your mouth!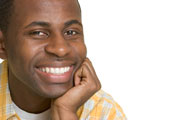 Invisalign® is a revolutionary system that straightens teeth while remaining virtually invisible. There is no metal to irritate your delicate mouth and gums, and you can take Invisalign® out to brush, floss and for special occasions.
The procedure is simple. During our initial consultation, we will talk with you about the hopes and expectations you have for your smile. After we've decided together that Invisalign® is right for you, we'll take some pictures and impressions of your teeth and develop your treatment plan.
Once your impressions have been made, they will be digitized and entered into the computer. Then we can plan the movement of your teeth from start to finish. You'll even be able to see a virtual representation of what your smile will look like during and after your Invisalign® treatment!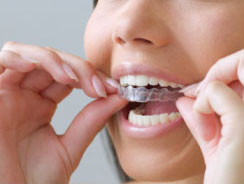 The computer will automatically adjust based on the treatment plan and new aligners will be created for you throughout the process. Typical treatment requires around 20-30 aligners per arch, or for each top and bottom.
Slowly but surely, you'll notice your teeth transforming. Before you know it, you'll have the smile you've always dreamed of!
Talk with us to learn more about Invisalign® during your next visit!
Patients come to us for Invisalign® teeth straightening from Cary, Clayton, Garner, Raleigh, Apex and surrounding areas.